Anti-Phishing Awareness

Anti-Phishing
92% of all viruses and malware are now delivered through email, due to it's high rate of success.
By targeting email, hackers can bypass most firewalls and intrusion detection systems to gain the
information needed to access accounts. Below are some statistics that will help you remain vigilant,
as well as some resources to help raise awareness in regards to potential threats.
The most common disguises for malware are:
Bill / invoice (15.9%)
Email delivery failure (15.3%)
Legal / law enforcement (13.2%)
Scanned document (11.5%)
Package delivery (3.9%)
The most successful phishing campaigns are from document sharing services such as Dropbox, Docusign etc. which is illustrated in the graph below.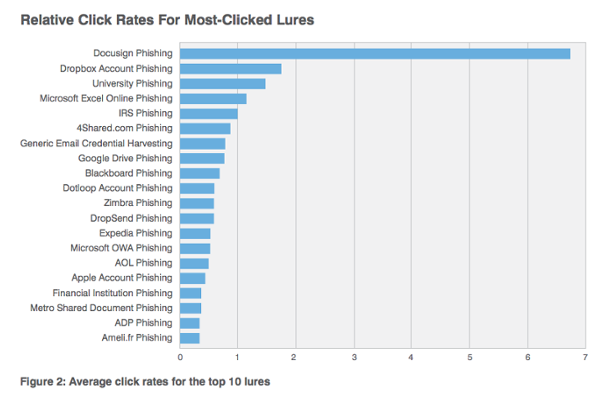 Downloadable/Printable Posters
Use these campaign posters to arm yourself with the knowledge you need to thwart potential attacks.
MobilePhish


Phishing attempts are more difficult to identify on a mobile device. Often condensed and more simplistic, the normal indicators become lost in the way the information is presented. Click on the picture to see an enlarged version, to help you become more sensitive to mobile phishing attempts.
PhishFlow
Still unsure if you received a phish? Click on the image to open a diagram that will help you determine whether or not the email is a phishing attempt.

Phish vs Spam


Spam is simply unwanted advertisements, but a phish tries to steal information such as, credit card/bank info, usernames and passwords etc. Click on the image to see the key differences between them.

Types of Phish


There are many methods phisherman use to try and steal confidential information. Learn the different types of phishing attacks by clicking on the image.
Security Awareness Videos
Here's some short videos that will teach you the fundamentals of identifying a phishing attempt or scam. Empower yourself with the knowledge to stay safe online.
Sample Phishing Emails
Here's some examples of the most common phishing attempts. These are designed to get the user to enter sensitive information such as usernames/passwords, credit card information, bank account numbers etc.
REMEMBER: IF YOU DON'T EXPECT IT, REJECT IT!
| | |
| --- | --- |
| | Docusign |
| | Dropbox |
| | Office 365 |
| | Visa |
| | UPS |